HyperX Cloud Alpha wired gaming headset review
HyperX is arguably considered one of the best gaming headset manufacturers out there, and for good reason. We're reviewed a number of products from the company, including the Cloud Revolver, Cloud Revolver S, and Cloud Stinger, and not once have we found a headset unworthy of buying. Now, however, the company is back again with another addition to its lineup — the HyperX Cloud Alpha.
The HyperX Cloud Alpha is aimed at being a great option for those looking for a midrange headset. It's not as inexpensive as the aforementioned Cloud Stinger, but not as pricey as the company's flagship headset, the Cloud Revolver S. But is it worthy of the HyperX Cloud name? We put the HyperX Cloud Alpha to the test to find out.
Design
The first thing you'll notice about the HyperX Cloud Alpha is its design, and it's decidedly a HyperX headset. That's to say the headset features the same sleek black look with red accents found on the rest of the HyperX lineup — and we think that's a good thing.
The headset is made from metal and plastic, and overall we found the build quality to be more than sufficient. The red metal frame seems strong enough to withstand most abuse, while the plastic used is high quality and durable. Even the included cables seem strong — instead of using a plastic coating, which you'll find on many other headphones, the cables are protected with a braided nylon, which helps ensure they don't split or break easily.
There aren't many controls on the headphones themselves — these aren't wireless headphones. Instead, on the left ear cup you'll find an input jack for the audio removable cable and an output for the included microphone — which is also removable. We loved the fact that the cables and microphone were removable. Not only does it mean that you can more easily use the headphones without the microphone, but it also means that if the cable or microphone breaks, you can keep using the headset without having to replace everything.
Unlike the HyperX Cloud Stinger headset, the ear cups do not swivel — these headphones aren't built for portability. Instead, they're built to live right next to your computer or console where they belong, ready to be picked up when you want to play.
In the box, you won't find all that much — but you'll find everything you need. You'll get the headphones themselves, along with the detachable microphone and a main audio cable. You'll also get an extra breakout cable, which splits the audio input and microphone into two jacks — which will come in handy for those who need to plug the two components into two separate jacks rather than using one combo port.
In general, the HyperX Cloud Alpha headset is well designed and strong. It's clear that the build-quality here is premium, and you'll get all the necessary accessories you need.
Comfort
The HyperX Cloud Alpha headset isn't just well-designed — it's also pretty comfortable. It seems like headphone manufacturers are increasingly skimping out on the padding in a headsets headband — but that's not a trap that HyperX seems to have fallen into.
Let's start with the ear cups, which not only feature ample padding — a high-quality memory foam — but that padding is also covered with an ultra-soft and comfortable material. We were able to wear the headset for hours on end without any discomfort from those ear cups beyond a little added warmth — which is hardly a deal breaker.
As mentioned, the padding under the headband is also pretty substantial. While the padding doesn't seem to be covered in exactly the same material as the ear cups, it's still relatively soft and comfortable, and as long as the headphones are adjusted to the right size you shouldn't experience any discomfort there.
All this is important in a gaming headset. Some consider comfort to be even more important than sound for gaming headsets, and HyperX takes that seriously. We've found that to be true in previous HyperX headsets, and the tradition continues here.
Sound
But what about sound? Does the headset feature enough oomph for those explosions, and enough high-end for the whizz of a bullet? In short: yes.
Let's start with the bass, which is deep, powerful, and present. Explosions featured plenty of earth-shattering bass, which is very helpful. There's also plenty of bass for music-listening — bass lovers will appreciate the extent of the depth of the bass here. Katy Perry's California Girls offered a kick drum that cut straight through the mix without being overbearing.
The mid-range is equally well-tuned, but in a slightly different way. While the low-mids feature enough warmth for most situations, there was an ever-so-slight cut in the high-mids — which is to be expected in a gaming headset, as it helps the voices of your teammates cut through a little easier. That didn't really have much of a negative effect on listening to music either.
The high-end is clear and cutting without being too shrill. You'll get plenty of air in a gunshot, while voices sounded crisp and sibilant. That's good for music-lovers too — often headphone makers skimp out on the high-end, but HyperX has produced a headset with excellent treble response.
Often-times when you're buying a gaming headset you expect it to be somewhat of a one-trick-pony. HyperX has steered clear from that pitfall before, and it's done it again here. Not only is the HyperX Cloud Alpha headset great for gaming, but it's an excellent option for listening to music as well.
Microphone
The built-in microphones on a gaming headset have never been the best quality, and that doesn't change here — but it's not terrible. While those looking for a microphone for things like Let's Play videos and podcasts may want to look into buying a dedicated mic, those looking for something to communicate with their teammates will find the HyperX Cloud Alpha microphone to be capable of doing the job — despite the fact that the mic pretty easily clips and can't handle too much volume.
Conclusions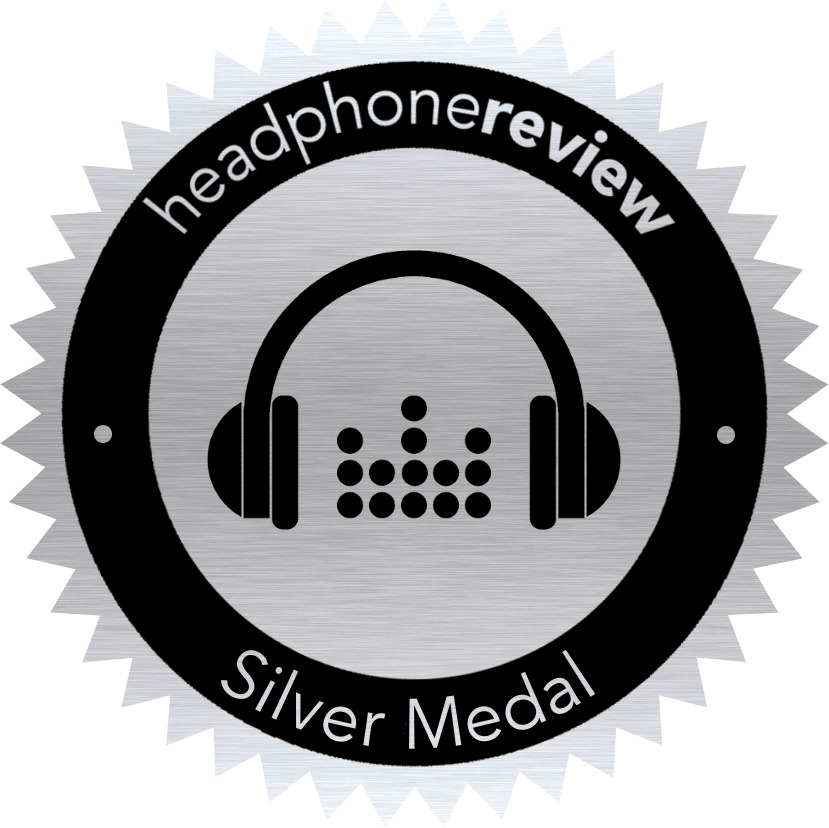 HyperX has once again built a headset to impress with in the HyperX Cloud Alpha. Sure, it doesn't offer all the bells and whistles you might find on the HyperX Cloud Revolver S — like surround sound — but it still offers an excellent design, top-tier comfort-level, and a great sound-quality for both gaming and music-listening alike.
Of course, it's not without its competition — but we would argue that at this price range you can't really buy a better gaming headset. It's for that reason that we've awarded the HyperX Cloud Alpha gaming headset the Headphone Review Silver Medal.
| Store | Price |
| --- | --- |
| | $99.99 |
| HyperX | $99.99 |
Frequency response
13Hz – 27kHz
Active noise cancellation

No
Driver size
50mm
Noise attenuation
Unknown
Driver type

Dynamid
In-line controls
Yes
Design

Closed
Microphone
Yes
Sensitivity
98dB
Earpad material
Foam
Rated impedance

65Ω
Magnet material
Neodymium
Total harmonic distortion

<1%
Water resistance
No
Rated input power

Unknown
Battery life
N/A
Maximum input power

Unknown
Wireless distance
N/A
Wireless connection

No
Cable length
1.3m (+2m extension cable)
Wired connection

3.5mm
Case type
N/A
Detachable cable

Yes
In-the-box

Headphones
Microphone
Cable
Breakout cable

Weight
298g (10.5oz)
Colors
Black