Sennheiser Ambeo in-ear smart headset review
Good sound-quality
Relatively comfortable
Cool 3D audio recording
The times, they are a changin'. Gone are the days when headphones were built simply to deliver decent-sounding audio to your ears. With the rise of "hearables," or smart headsets, headphones are starting to do a whole lot more. The Google Pixel Buds, for example, have Google Assistant built right in to them. Now, Sennheiser has its own smart headset offering — the Sennheiser Ambeo smart headset.
Sennheiser's Ambeo headset looks to take the downfall of the headphone jack, and use it as an opportunity to develop much better-sounding, full-featured headphones. Does it deliver on that promise? We put the Sennheiser Ambeo smart headset to the test to find out.
Design
When you first take the Sennheiser Ambeo out of the box, you'll notice a few things about it. For starters there's a microphone grill on each of the earpieces, which helps in the 3D audio recording and in delivering good noise cancellation.
Then, part way down the cable you'll find a somewhat big control module. The reason that module is so big, however, is that it's there for more than just controls — it's also an A/D and D/A converter. That's pretty good news for those that want higher quality audio than what's on offer by default in the iPhone. The converter is built by Apogee, a top-tier audio company in the studio world, known for its converters specifically.
On the control module, you'll get a number of different buttons and switches. Those include two active noise cancellation switches, which cancel more or less noise depending on what you want, as well as volume and playback controls and a 3D recording button. That's right, with a compatible app you can use the headset to record 3D audio, which is a very nice touch.
We mentioned that converter is aimed at delivering better audio on your iPhone. Unfortunately for some, this headset is for iOS only. It connects to your device through a Lightning connector, which it uses both for audio and to draw power for its converter. Of course, for many users the fact that this is iOS-only won't be such a big deal.
In general, the headphones look quite nice. They're available in black or white, and while we don't think they're going to forever change the world of headphones, they still look pretty good.
The the box, you'll get a total of three pairs of ear tips and a soft carry bag. We would have liked to see a slightly more durable case here — especially for a pair of $300 headphones.
Comfort
Of course, a great design is only part of what's important in a great pair of headphones — you'll also want to know how comfortable they are. Thankfully, we found it was easy to wear the headphones for decently long periods of time without ever feeling like they were getting overly uncomfortable.
That's pretty impressive for a pair of in-ear headphones, which are generally much more uncomfortable than over-ear headphones. The ear hooks, we think, are especially helpful in achieving a good fit.
Sound
In the end, the most important thing to consider is how the headphones sound — and they sound pretty good.
Let's start with the bass, which is perhaps the weakest aspect of these headphones. We found that while the bass was present, it could have extended a little deeper and offered a bit more of a boost. Still, we found that kick drums were able to deliver a decent punch.
The mid range is where things really start getting nice. There's a solid amount of warmth in the low mids, while the high mids deliver a decent amount of presence for the vocals.
The high-end also sounds very good. There's a solid amount of clarity and detail, and while again we could have used a little more extension in the high-end, it still sounds pretty darn good.
Of course, when it comes to sound quality, you also need to consider noise cancellation. We were able to test noise cancellation in a variety of settings and found that while it certainly wasn't the best noise cancellation around (that title goes to Bose) it was still fine. It'll help cut down on some of the background droning on a plane or bus, but it won't cut it out completely.
In general, the Sennheiser Ambeo headphones sound better than your average pair of in-ear headphones, plus they offer noise cancellation, which is a nice touch.
Recording quality
Another big part of what makes the Sennheiser Ambeo headset unique is that it records so-called 3D audio through microphones in the earpieces. What does that mean? Well, the gist of it is that sound almost never reached our two ears at the same time. Generally, it arrives at one ear a fraction of a second earlier than the other ear — which is how our brain calculates directionality. Reproducing that is the goal with these headphones.
So how does it do in that respect? Actually, it's a pretty interesting feature, and it works quite well. The way it seems to work is that each microphone corresponds to a track in a stereo recording — so the left microphone will be used to record the left track, and the right microphone the right. In other words, if you turn your head away from the sound source, it'll sound like you're turning your head when you play it back.
The cool concept of 3D recording aside, the microphones are decent, but not incredible. You'll still get plenty of hiss when you turn the audio up after recording, and the microphones are a bit lacking in the low-end. Still, it's a cool feature and one that should seriously improve the audio quality in iOS apps.
Conclusions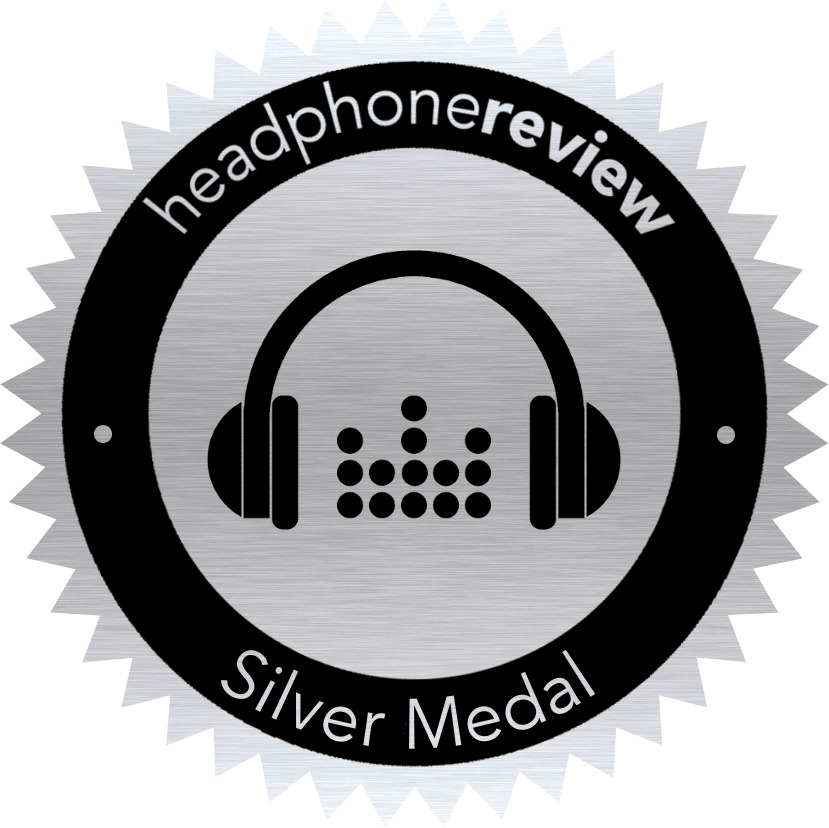 The Sennheiser Ambeo headset is really a very interesting concept. The headphones are decently well-designed, relatively comfortable, and they sound pretty good too. Plus, they offer one feature that probably no other in-ear headset does — 3D audio recording, meaning they can capture much more immersive audio than any single-microphone setup could.
But are they worth the $299? If you're looking for a pair of in-ear headphones and like the concept of 3D audio recording or want noise cancellation, then absolutely — but keep in mind that for now the headset is iOS-only. If, however, you're simply looking for a pair of great in-ear headphones, then we think that perhaps the Master & Dynamic ME05 headphones, which are $100 cheaper, may be a better option.
Still, given their excellent quality, we've decided to award the Sennheiser Ambeo in-ear headphones the Headphone Review Silver Medal.
Frequency response
15Hz – 22kHz
Active noise cancellation

Yes
Driver size
Unknown
Noise attenuation
Unknown
Driver type

Dynamic
In-line controls
Yes
Design

Closed
Microphone
Yes
Sensitivity
Unknown
Ear tip material
Gel
Rated impedance

Unknown
Magnet material
Unknown
Total harmonic distortion

Unknown
Water resistance
No
Rated input power

Unknown
Battery life
N/A
Maximum input power

Unknown
Wireless distance
N/A
Wireless connection

No
Cable length
1.2m (4ft)
Wired connection

Yes, Lightning
Case type
Carry pouch
Detachable cable

No
In-the-box

Headphones
Carry pouch
Ear tips

Weight
Unkown
Colors
Black, white