Master & Dynamic ME05 wired in-ear headphones review
Great sound
Awesome design
We've had the good fortune of reviewing Master & Dynamic's headphones in the past — including the ME01 and ME03 in-ear headphones. Now, however, we're taking a look at the big guns — the flagship pair of in-ears, called the Master & Dynamic ME05.
The headphones start at a cool $180, which is't necessarily cheap. But are they worth it? Given the company's previous offerings, it's highly likely. Just to make sure, however, we put them to the test.
Design
The first thing you'll notice about these headphones is their design, and they look quite good — which we would expect from Master & Dynamic. They look similar to the ME01 and ME03 headphones, however the in-ear unit is much more rounded.
The headphones are available in a few different colors, including black, silver, and gold. We're reviewing the gold model, which we really like. Often gold headphones have a certain misplaced cheap feel to them, but that isn't necessarily true of these.
Where the two sides of the cables meet, you'll find a control remote, which features a basic three-button design — volume up, volume down, and a central multi-use button. It's pretty basic, but it's easy to use and that's a good thing.
The build-quality of the headphones is quite good too. The tangle features a flat "tangle-free" design, like the other Master & Dynamic in-ear headphones. The in-ear units themselves are built largely out of brass, and they seem relatively strong. While we always recommend you be careful with your headphones, these should be able to take the abuse that you throw at them.
In the box, you'll get a nice slew of accessories. Apart from the headphones themselves, you'll find a total of four pairs of ear tips, a polishing cloth, a leather hard case, and a soft case. It's a good selection, and you shouldn't need anything else.
In general, the Master & Dynamic ME05 headphones look great and are well-built. Plus, they come with a ton of accessories, which is always a bonus.
Comfort
As mentioned, the Master & Dynamic ME05 in-ear headphones feature a number of accessories, which has a big impact on their comfort level. We strongly recommend you experiment with the different ear tip sizes to find the right fit, as it will greatly help.
The headphones are more comfortable than most in-ear headphones, but they could still be even more comfortable. We would have liked to see a pair of memory foam tips with the headphones, especially at this price point, as it would have helped keep the headphones in and comfortable.
Sound
So the headphones are well designed and generally comfortable, but what's really important is how they sound. Thankfully, they sound great.
Let's start with the bass, which is deep, powerful, and clear. The bass is most certainly the most pronounced frequency range of offer from these headphones — kick drums in Katy Perry's California Girls are nice and strong, while bass tones in songs with a little less bass are still nice and present. The bass is pretty strong, and it may be too strong for some purists — but for consumers looking for a good amount of bass, it might hit the sweet spot. That's true with both of the two sets of filters, though the treble-heavy filters do make things a little more balanced.
The mid-range is also pretty well-tuned, with the low-mids sitting in nice and warm and the high-mids offering enough presence for the vocals, especially with the treble filters.
The high-end on these headphones suffers a little with the bass-forward filters, but with the other filters installed things sounded a little better to our ears. Some, of course, might prefer that bass-boosted sound, and if you're one of those people we highly recommend the headphones.
The Master & Dynamic ME05 headphones aren't necessarily built for audiophiles — they feature a sculpted sound, to be sure. That, however, isn't necessarily a bad thing. In fact, we think they sound quite good. We loved the presence of the bass, and while a slightly clearer high-end would have been welcome, it's still well-tuned and sounds good.
Conclusions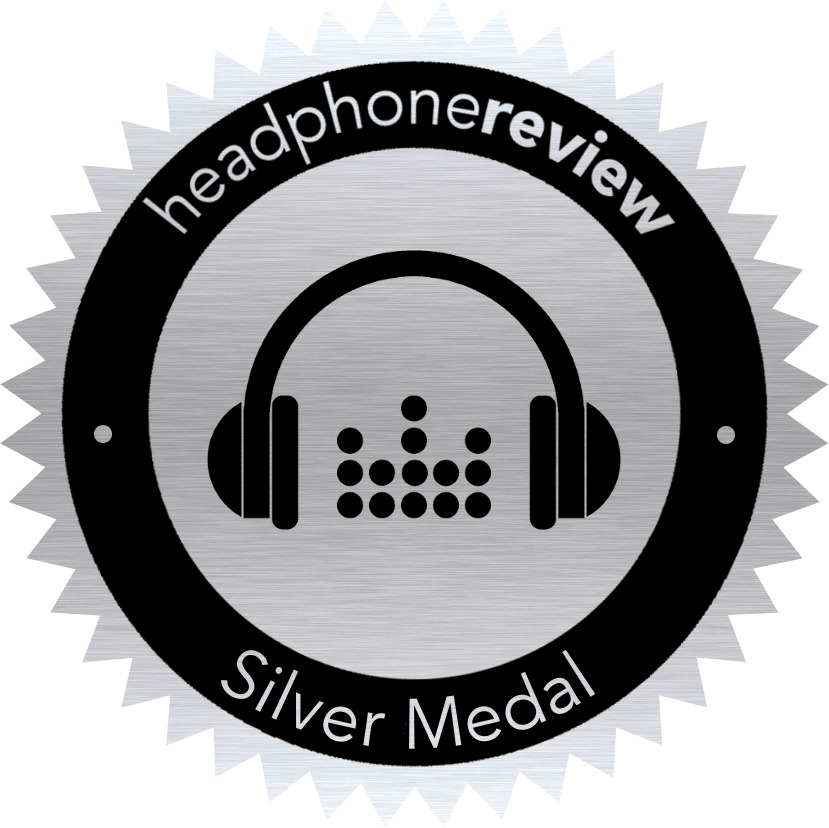 The Master & Dynamic ME05 headphones are the best in-ear headphones Master & Dynamic has to offer. Sure, they're also the most expensive — but if you have the money, we recommend shelling out.
Not only do the headphones look great, they're also generally comfortable despite their in-ear design, and they sound excellent. In fact, at this price point we would argue that they're among the best headphones out there.
Because of that, the Master & Dynamic ME05 headphones have been awarded the Headphone Review Silver Medal.
Frequency response
Unknown
Active noise cancellation

No
Driver size
8mm
Noise attenuation
Unknown
Driver type

Dynamic
In-line controls
Yes
Design

Closed
Microphone
Yes
Sensitivity
Unknown
Eartip material
Silicone
Rated impedance

16Ω
Magnet material
Titanium
Total harmonic distortion

Unknown
Water resistance
No
Rated input power

Unknown
Battery life
N/A
Maximum input power

Unknown
Wireless distance
N/A
Wireless connection

No
Cable length
1.2m (4ft)
Wired connection

Yes, 3.5mm
Case type
Hard case/soft pouch
Detachable cable

No
In-the-box

Headphones
Hard case
Soft pouch
Ear tips (x4)
Acoustic filters
Polishing cloth
Clothing clip

Weight
21g
Colors
Black, silver, gold