Audio Technica ATH-DSR7BT over-ear wireless headphones review
Excellent sound
Great design
Comfortable
Audio Technica has long been a pro audio powerhouse, and that includes making some of the better headphones on the market — especially for the price. The company is known for its huge range of cans, extending across price ranges and types. Now, the company is back again with the Audio Technica ATH-DSR7BT.
The headphones first launched earlier this year, and while they are a little pricey — coming in at $299 — they promise to continue the tradition of high-quality headphones from Audio Technica.
Do they live up to that name? We put them to the test to find out.
Design
The first thing you'll notice about the Audio Technica ATH-DSR7BT headphones is their design, and they look great. They feature a hard plastic and metal build along with a nice black and gray color-scheme — which we loved. While there is a good amount of plastic in the build, the headphones seem quite strong, and like they could withstand a good amount of abuse without any issues.
On each earcup, you'll find the Audio Technica logo, while the right earcup features the power on switch. On the left earcup, you'll find the other controls — including the a volume switch and a touch sensor that serves as a playback control/call control button. It's quite nicely placed, and makes for a super easy experience.
On the left earcup, you'll also find a small "N" logo, which stands for NFC — that basically means that you can pair these headphones by enabling NFC on your phone and simply holding the phone to the headphones. Combined with the easy-to-use buttons, it's clear that Audio Technica has put a lot of effort into making the headphones easy to use — and easy to use they are.
In the box, you'll get the headphones themselves, along with a microUSB cable and a soft carry bag. Noticeably absent is a 3.5mm cable — although there's also no plug to plug that cable into on the headphones. Now, you can listen to high-resolution music over the USB cable on these headphones, but that doesn't really helpful for those with phones with a 3.5mm cable. The headphone jack is dying for consumer use — but it's not dead yet and it would have been nice to see the headphones usable with the headphone jack.
Still, it's a minor quibble for those who are looking for wireless headphones in the first place — and especially minor if you're good at keeping your headphones charged up and ready to use at all times. In general the design of these headphones is excellent — as is to be expected of Audio Technica headphones.
Comfort
The Audio Technica ATH-DSR7BT headphones don't just look good — they're very comfortable too. We wore them for hours on end without any issues. That's largely thanks to the fact that the headphones offer ample padding in both the earcups and in the headband, and the memory foam padding used is relatively high-quality too.
Really there's almost nothing to complain about when it comes to comfort level here. The headphones do get a little warm in hot weather, especially after long listening periods, but that's to be expected of most over-ear headphones.
Sound
Audio Technica is a pro audio company, meaning audiophiles and those looking for an excellent listening experience may turn to it. Thankfully, you won't be disappointed.
Audio Technica employs some pretty fancy tech to make these headphones sound so good. The headphones make use of the company's so-called "Pure Drive" technology, which basically means that instead of a standard A/D converter and amplifier, the digital signal is fed directly into a custom-built chip, which uses the digital information to directly move the drivers. According to Audio Technica, the result is a clearer sound with much more detail — and the headphones are most certainly detailed.
Let's start with the bass, which is generally a little more scaled back than you might be used to if you listen to consumer headphones a lot. The reason for that is that these are built to provide an accurate sound rather than a consumer-friendly sound like you might find on headphones from Beats or Monster — and while the bass is a little scaled back, it still sounds great. These headphones aren't made to offer tons of bass, and we would have liked to see a tiny bit more, but the bass that is there is deep and powerful.
The mid-range is quite well-tuned. The low-mids are also a little scaled back, but the headphones still sound warm enough. The high-mids are nice and present, bringing out vocals, guitars, and snare drums without sounding like an AM radio by any means.
The high-end is where these headphones really shine. Things like cymbals and percussion are crisp and detailed, while the sibilance in vocals and the string noise on guitars is brought out to sound amazingly good. The high-end is certainly the most pronounced frequency range too — which isn't necessarily a good or bad thing, but still something to note. We would have liked to see a slightly toned back high-end — but we're really nitpicking there, and in general the headphones still sounded absolutely excellent. One thing is for sure — these aren't for mega-bass fans, but rather audio enthusiasts who want a super detailed sound, which is exactly what they'll get.
The Audio Technica ATH-DSR7BT offer some of the most detailed audio we've heard yet, especially considering they're Bluetooth-connected. On top of that, the stereo separation is excellent and the headphones don't distort easily unless at quite high volumes.
Performance
The Audio Technica ATH-DSR7BT headphones are Bluetooth-connected, meaning things like battery life matter too when you're buying them. The headphones connect to your listening device through Bluetooth 4.2, meaning you'll get a standard connection distance of 10 meters, or around 33 feet. We didn't really experience all that many issues with connectivity, except through multiple obstacles or at unreasonable distances.
The battery life of the headphones sits in at 15 hours — which is fine, but not necessarily groundbreaking by any means. We didn't quite hit 15 hours, but we got close — and that time will largely depend on things like listening volume.
Conclusion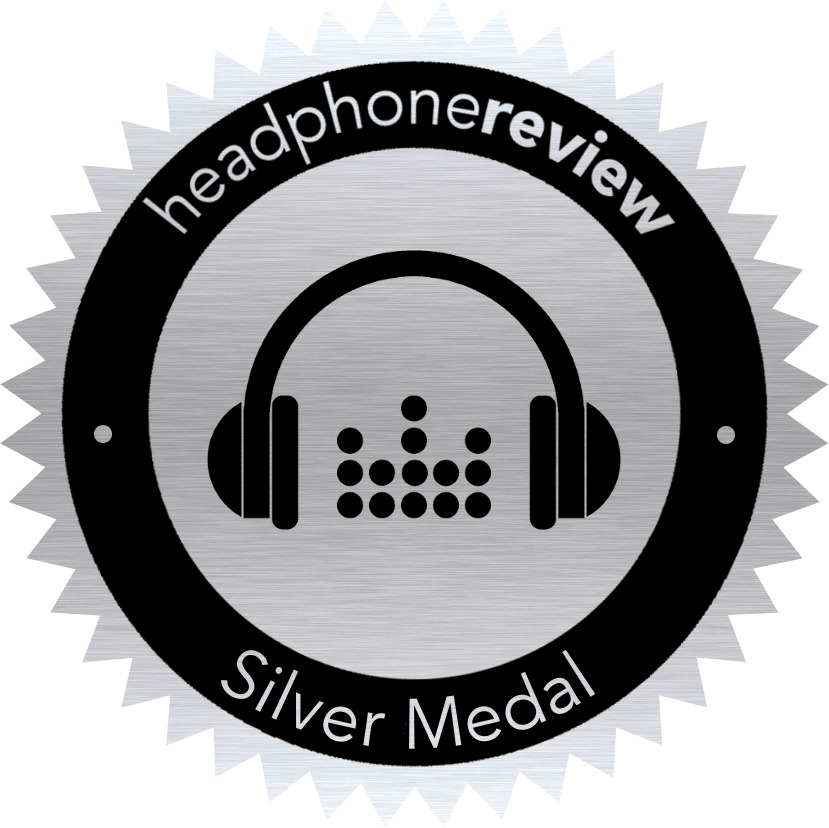 Audiophiles rejoice — Bluetooth-connected headphones are getting better and better. The Audio Technica ATH-DSR7BT headphones are beautifully designed, comfortable to wear for long periods of time, and they sound great. They're not for mega-bass fans or perhaps even the average consumer, to be sure, but those looking for an excellent Bluetooth listening experience and willing to pay for it will love these.
If course, these aren't cheap — but in the $299 price range, we would argue that they're among the best we've reviewed, and if you're looking for a great pair of Bluetooth headphones that offer a ton of detail and a great sound, then we can't recommend these enough. So much so, that they've been awarded the Headphone Review Silver Medal.
Frequency response
5Hz – 40kHz
Active noise cancellation

No
Driver size
45mm
Noise attenuation
Unknown
Driver type

Dynamic
On-ear controls
Yes
Design

Closed
Microphone
Yes
Sensitivity
100dB
Earpad material
Memory foam
Rated impedance

Unknown
Magnet material
Unknown
Total harmonic distortion

Unknown
Water resistance
No
Rated input power

Unknown
Battery life
15 hours
Maximum input power

Unknown
Wireless distance
10m (33ft)
Wireless connection

Bluetooth 4.2
Cable length
2m (6.6ft)
Wired connection

Yes, USB
Case type
Soft pouch
Detachable cable

Yes
In-the-box

Headphones
Pouch
MicroUSB cable

Weight
300g (10.6oz)
Colors
Black