Creative Aurvana Trio in-ear wired headphones review
Relatively natural sound
Quite comfortable
Some more high mid response could be helpful
Creative may not be the first company you'd turn to for a pair of great headphones, but as we've seen over the past few weeks in reviewing the Creative Outlier Black and Creative Outlier One headphones, Creative headphones are an excellent option for those that want decent headphones at a reasonable price. Now, it's time to look at something a little more expensive — the Creative Aurvana Trio in-ear headphones.
At $150, the headphones have a lot more competition, especially considering the fact that they're really targeted at those who want excellent sound quality and accurate frequency response. Are Creative's headphones worth considering, even in this price range? We put the Creative Aurvana Trio headphones to the test to find out.
Design
The first thing to notice about the Creative Aurvana Trio headphones is their design, and they're nice-looking headphones. For starters, they feature a removable cable, meaning that if something happens to the cable, you can replace it without having to replace the entire set of headphones.
Speaking of the cable, its a braided plastic, which is pretty nice — though perhaps not as strong as something like a braided nylon would be. Part way down the right side of the cable, you'll find a small single-button remote with a microphone.
The earbuds themselves are also pretty nicely designed. They feature the Aurvana logo along with a relatively sleek black and silver color scheme. They are a little big compared to similarly-priced in-ear headphones, but they's not necessarily a big deal.
In the box, apart from the headphones themselves, you'll find a total of four pairs of ear tips, including one pair of memory foam tips, which is a very nice inclusion. There's also a really nice carry case, which should fit the headphones and any ear tips you want to bring.
In general, we quite like the way these headphones are designed, and the fact that they come with premium accessories too.
Comfort
The headphones may be well-designed, but that doesn't necessarily mean they're comfortable. Thankfully, however, they are. When you first put the headphones in you'll notice how well they fit, even despite the slightly large earbud size.
That good fit doesn't seem to wane after long listening times either. We found that we were able to wear the headphones for hours on end without any issue — which is really good news for those that want something they can wear for a while. Perhaps the only criticism we could make is that the arm that extends into your ear is a little wide, but overall we found that not to be too much of an issue.
Of course, we still highly recommend experimenting with the different ear tips, as that will ensure the headphones aren't just comfortable, but also that they stay in your ear. For that, the included memory foam tips may well be the best option — though they come with a slightly different feel.
Sound
So far, the Creative Aurvana Trio headphones are doing pretty well. They feature a nice design, and are more comfortable than most in-ear headphones by a mile. So how do they sound? Well, thankfully, pretty great. These headphones may well be the complete package.
The bass, for starters, is deep and powerful, offering a nice kick when appropriate, but sitting back a little when it needs to. The bass here is powerful, but it doesn't go too far over the top. There is a slight boost, to be clear, but those looking for a generally natural sound won't be too disappointed.
The mid range is also very well-tuned. The low mids are warm and present, offering a nice tone to things like bass guitars, without getting muddy or overly unclear. The high mids are clearly cut a little, which may be a problem for some, but we found that they weren't cut to the point of being a huge issue.
The high end is generally clear and detailed, but a little more detail would always be welcome. The high mid cut seems to bleed over a little to the highs, which may be the cause of the slightly laid back detail.
Overall, these headphones sound great, but not everyone will like their profile. They're warm and generally accurate, with a few small quirks. The generally good sound is probably attributable to the fact that these headphones have three drivers — one so-called "bio-cellulose" driver for low-end, and two balanced armature drivers for the mids and high end. It's clearly a successful approach. The headphones are also good at blocking out outside noise, which can be helpful.
Conclusions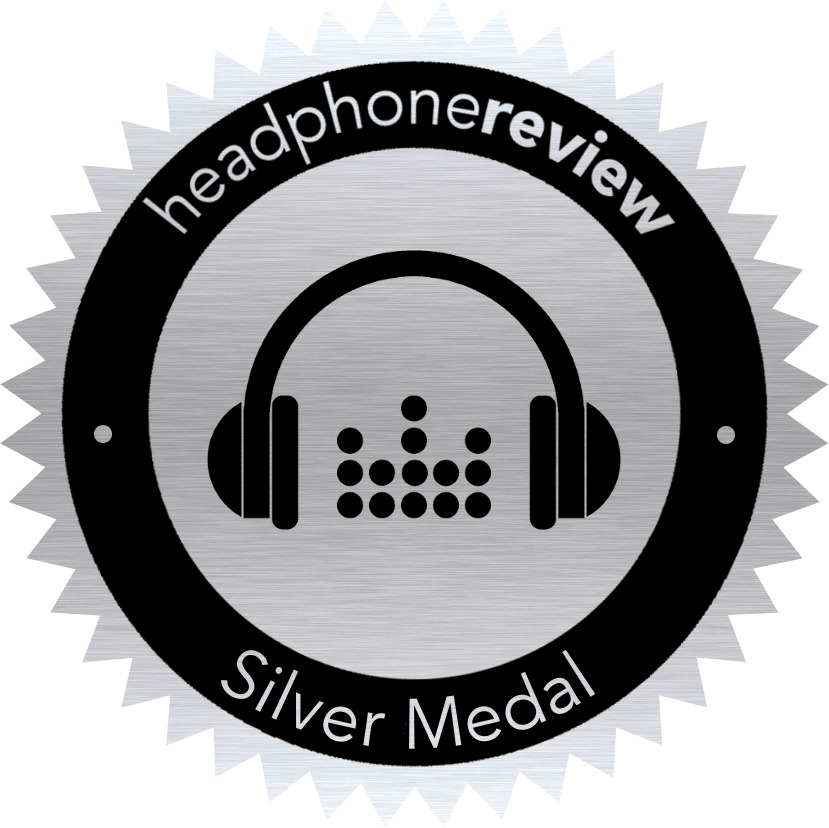 If you're looking for a pair of solid headphones that are comfortable and sound pretty good, then the Creative Aurvana Trio are an excellent option. They may not be the flashiest pair of headphones out there, but they certainly have a lot to offer.
But are they the best option in their price range? Well, they're at least one of them. A serious competitor comes in the form of the V-Moda Forza Metallo headphones, which are a little cheaper, coming in at $130. Another excellent option is the Master & Dynamic ME03 headphones, which are among our top pick for wired in-ear headphones, and come in at $160.
Still, if you're looking for a pair of no-frills headphones with a relatively natural sound and removable cables, then these may well be the pair for you. Because of their excellent value, we've awarded the headphones the Headphone Review Silver Medal.
Frequency response
5Hz – 40kHz
Active noise cancellation

No
Driver size
10mm
Noise attenuation
Unknown
Driver type

Bio-Cellulose Dynamic / Balanced Armature
In-line controls
Yes
Design

Closed
Microphone
Yes
Sensitivity
Unknown
Eartip material
Gel, memory foam
Rated impedance

Unknown
Magnet material
Unknown
Total harmonic distortion

Unknown
Water resistance
No
Rated input power

Unknown
Battery life
N/A
Maximum input power

Unknown
Wireless distance
N/A
Wireless connection

No
Cable length
1.2m (4ft)
Wired connection

Yes
Case type
Pouch
Detachable cable

Yes
In-the-box

Headphones
Pouch
Gel ear tips (x3)
Memory foam ear tips (x1)

Weight
19g (0.67oz)
Colors
Black