V-Moda Forza Metallo wired in-ear headphones review
Excellent design
Comfortable
Great sound
V-Moda has been building quite a name for itself in the headphone business. The company's Crossfade Wireless headphones offer an excellent sound with few compromises, and scored an admirable 8/10 in our review. We also recently took a look at the V-Moda Forza in-ears, which also scored very well. There are, however, a pair of headphones almost identical to the V-Moda Forza's, with only a few small yet notable differences — the V-Moda Forza Metallo headphones.
The Forza Metallo's are extremely similar to the original V-Moda Forza's — but are they worth the extra $30? We put them to the test to find out.
Design
Let's be honest — the main difference between the original V-Moda Forza headphones, and the V-Moda Forza Metallo's is the design — but it's an important difference to note nonetheless.
When we reviewed the V-Mod Forza headphones, our main note on the design was that they're a little plain — and they are. The V-Moda Forza Metallo's, however, are much less so. The headphones do away with the gray color scheme in favor of a white-and-gold look similar to what you would expect from a high-end iPhone. Note that the headphones come in two colors — gun black and rose gold, and judging by the website both look excellent. We think the rose gold sticks out among the rest though.
As you might have guessed by the name of the headphones, the V-Moda Forza Metallo's are built with a metallic material rather than plastic — which gives the headphones both a more premium feel and a supposedly stronger build. Of course, the build of the in-ear unit itself was never going to be the failing point if the headphones broke — but rather the cables. That's no different on these headphones, and while most people will be used to handling plastic cables and being careful with them, you will want to make good use of the included carry pouch to ensure they don't get tangled up with your other belongings.
Partway down the right in-ear unit, you'll find a three-button control box, which is pretty basic — but in a good and intuitive way. On the box, you'll get a volume up, volume down, and multi-use center button, which can be used for playing, pausing, and controlling phone calls.
In the box, you'll get a nice slew of accessories, including three pairs of ear wings for sports-users, a pair of ear hooks, a total of eight ear tips, and quite a nice carry pouch, which is made from leather and closed magnetically. The only thing we would have liked to see is a pair of Comply memory tips — but in general we were very impressed with the accessories we got.
The V-Moda Forza Metallo headphones look great, are well-built, and come with a ton of great accessories.
Comfort
Like the original V-Moda Forza's, the in-ear unit on the V-Moda Forza Metallo's is very small and hence very comfortable. In general, the headphones are quite a bit more comfortable than your average in-ear headphones.
Like any in-ear headphone, we strongly recommend taking the time to go through the ear tips to find the right pair for you. There are plenty to try in the box here — but it's worth taking that time.
Like any in-ear headphones, the V-Moda Forza Metallo's do sometimes fall out, but the right ear tip size should help eliminate that — as do the included wings.
Sound
As is the case with any pair of headphones, sound is perhaps the most important aspect — but thankfully, these headphones won't let you know down in that department. The headphones feature the same drivers and technology as the original V-Moda Forza in-ears, but we'll still give you the rundown here.
The bass on these headphones is deep and powerful, offering enough bass for most bass fans among us. While the mega-bass fans may prefer a little more low-end, the bass boost here works well across all genres of music — and most won't find themselves wishing they had more bass.
The midrange is also pretty well-tuned, but it's not perfect. The low mids are well-defined and generally don't get muddy, but the high mids can, at times, get overpowering. Not overly so — but enough to be noticable, especially in certain situations.
When it comes to the high-end, things sound great. In our opinion the high frequencies are the most overlooked frequency range, however V-Moda has clearly made an effort to avoid falling into that trap — and that effort has paid off.
A quick note — the V-Moda Forza Metallic headphones sound great, but not necessarily natural. Audiophiles may want to look elsewhere — but those just looking for generally great-sounding headphones will be pleased with these.
Conclusions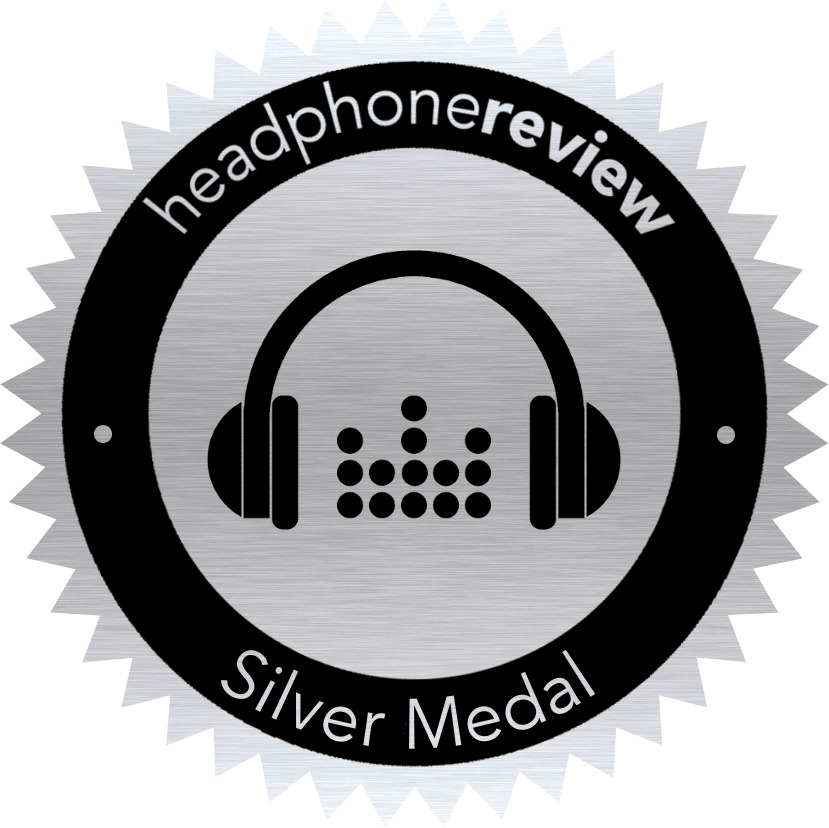 The V-Moda Forza Metallo headphones are really a home run here. They offer an excellent design, are very comfortable, and sound great. Only problem? Let's be honest, you don't really need these over the standard V-Moda Forza's, which sound equally as great and are equally as comfortable. Nonetheless, these are great headphones — and because they scored between 8 and 9, they're worthy of the first-ever awarded Headphone Review Silver Medal.
If you prefer that better design and don't care about the extra $30, you can buy the V-Moda Forza's below.
Frequency response
20Hz – 40kHz
Active noise cancellation

No
Driver size
5.8mm
Noise attenuation
Unknown
Driver type

Dyanamic
In-line controls
Yes
Design

Closed-back
Microphone
Yes
Sensitivity
99dB
Eartip material
Gel
Rated impedance

14Ω
Magnet material
Neodymium
Total harmonic distortion

Unknown
Water resistance
No
Rated input power

Unknown
Battery life
N/A
Maximum input power

Unknown
Wireless distance
N/A
Wireless connection

No
Cable length
1.2m (4ft)
Wired connection

3.5mm/Lightning
Case type
Pouch
Detachable cable

No
In-the-box

Carry pouch
Ear wing pairs (x3)
Ear tip pairs (x8)
Ear hooks

Weight
13.5g (0.48oz)
Colors
 Gunblack, Rose Gold