Master & Dynamic MH40 over-ear wired headphones review
Master & Dynamic is relatively new to the headphone space, but over the past few years its grown into a highly loved company, thanks largely to the fact that instead of launching dozens of mediocre models, it has focused on building a few super high-quality ones. We've looked at the company's in-ear headphones — the ME01, ME03, and ME05 — all of which got some pretty spectacular reviews. Now, we're looking at its flagship over-ear headphones, the Master & Dynamic MH40's.
As mentioned, Master & Dynamic is building quite a name for itself. Do the MH40's live up to that name? We put the headphones to the test to find out.
Design
The first thing you'll notice about the Master & Dynamic MH40 headphones is their design, and they look great. Master & Dynamic has managed to build a pair of headphones that look unique yet classic at the same time.
That starts with build-quality, and it's clear the build-quality on these headphones is high. They're built out of a combination of a nice brushed metal and a high-quality leather, with plastics used sparingly and only when necessary. The result is a slightly heavy pair of headphones, but one that should last.
On each ear cup, you'll find a nice grill plate with the Master & Dynamic logo, and everything is held together with a nice metal frame that's both strong and looks good. You'll also find a 3.5mm audio input on each ear cup — but you don't have to use both, you only need to use one. That's a cool addition — it means that you can have the cable on the left or right side, depending on what you so choose.
Apart from their unique look, the right ear cup has a unique feature — a mute button. Simply push the button, and the audio will stop. Push it again, and you'll hear it again.
The headphones come in a few different color choices — we're reviewing the Navy Leather/Silver Metal pair, but they come in a hefty 7 different color combinations, and all of them look pretty good. Between the color combinations and the ability to use either the left or right audio input, it's clear that the headphones are built for customization.
They're also built to last. Beyond the strong frame, the ear pads are attached magnetically — so taking them off to replace them is extremely easy. Ear pads wear out, inevitably, but the ability to replace them so easily could be a serious money-saver in the long run.
In the box, you'll get the headphones themselves, along with two cables (different lengths), a 1/8-inch to 1/4-inch adapter, and a small case for those cables. You'll also get a carry bag for the headphones, and while we also like hard cases for headphones, it's still nice that there's a bag at all.
In general, the Master & Dynamic MH40 headphones are extremely well-designed. They're beautifully and strongly made, and while a hard case would be nice there are still enough accessories for most situations.
Comfort
As mentioned, the Master & Dynamic MH40 headphones are a little heavy — and that's something some people may want to keep in mind. For us, the heaviness was far from a deal-breaker, and it turned out to be the only major downside in the comfort department.
There's ample padding in the ear pads for long listening periods, and while we would have liked a little more padding under the headband, it's still comfortable enough for most. The clamp on the headphones is also nice and tight without getting too hard, which is helpful.
We did find that initially the headphones felt like they didn't fit quite right around our ears, however that seemed to get better quickly.
Sound
Of course, while design and comfort are important enough, they're not as important as sound quality — and thankfully the Master & Dynamic MH40 headphones sound great.
Let's start with the bass, which is deep, powerful, and strong. The bass definitely takes center stage in the sound profile of these headphones, meaning they'll appeal to a wide range of listeners. Sure, they might not be the best fit for those looking for a pair of super accurate headphones, but that doesn't mean they don't sound good.
The mid-range is also well-tuned, offering a boosted, warm-sounding low-mids, with a slightly more tame high-mids.
The high-end is nice and crisp, and while we would have liked a little more clarity and detail in the upper frequencies, the fact is that these are bass-focused headphones. It would be untrue to say that Master & Dynamic overlooked the high frequencies here — instead it's clear that the company wanted to offer a slightly more tucked-back take on the upper frequencies in comparison with the lows.
The soundstage on these headphones is quite good, and you won't notice any distortion unless at overly loud — and dangerous — levels.
Conclusions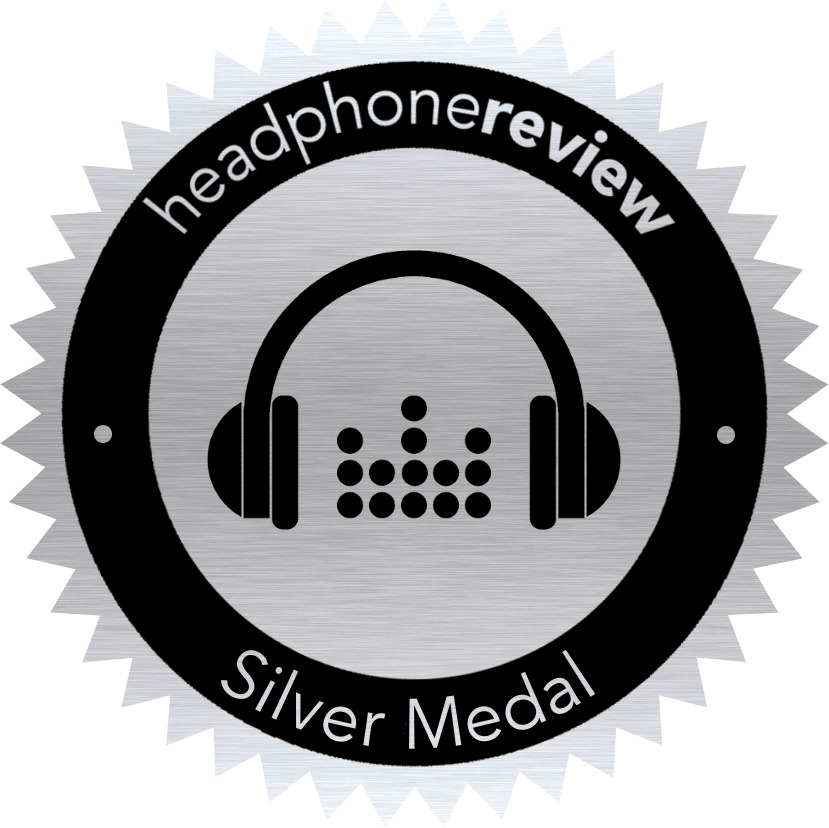 Master & Dynamic continues to impress with its flagship pair of headphones, the Master & Dynamic MH40's. The headphones are beautifully designed, relatively comfortable, and offer a great sound-profile, especially for those that like a little extra oomph in the low-end.
Of course, they don't come cheap — $400 is a lot to ask for a pair of headphones. But that doesn't mean you should avoid them — in fact, if you have $400 to spend on a pair of headphones and like a bass-heavy sound, we recommend them. If, however, you want a slightly more detailed high-end, you could go for the Shure SRH840 headphones, which are half the price, or Blue's Sadie headphones, which are the same price but offer a slightly more accurate sound profile.
None of those, however, match Master & Dynamic's nice bass-heavy tone and beautiful design, so if those are important to you, look no further. In fact, those things are a big reason we're awarding these headphones with the Headphone Review Silver Medal.
Frequency response
Unknown
Active noise cancellation

No
Driver size
45mm
Noise attenuation
Unknown
Driver type

Dynamic
In-line controls
Yes
Design

Closed
Microphone
Yes
Sensitivity
Unknown
Earpad material
Foam
Rated impedance

32Ω
Magnet material
Neodymium
Total harmonic distortion

Unknown
Water resistance
No
Rated input power

Unknown
Battery life
N/A
Maximum input power

Unknown
Wireless distance
N/A
Wireless connection

No
Cable length
1.2m (4ft), 2m (6.6ft)
Wired connection

3.5mm
Case type
Carry bag
Detachable cable

Yes
In-the-box

Headphones
Carry bag
Cables (x2)
1/8″ – 1/4″ adapter

Weight
360g (12.7oz)
Colors
Silver Metal/Brown Leather, Gunmetal/Black Leather, Silver Metal/Navy Leather, Black Metal/Navy Leather, Black Metal/Black Leather, Silver Metal/White Leather, Gunmetal/Black Alcantara