MEE Audio X7 in-ear wireless headphones review
High mids are a little much
MEE Audio may not have the same weight to its name as the likes of Beats, but the company is slowly but surely growing into its own. We've reviewed a few MEE Audio headphones over the past few months, like the MEE Audio X7 Plus and the MEE Audio X8, with mixed thoughts. Now, however, we're reviewing a new pair — the MEE Audio X7.
Does the X7 carry on MEE Audio's recent tradition of growth and improvement? We put the headphones to the test to find out.
Design
In reality, the overall design of the MEE Audio X7's isn't all that different from previous MEE Audio designs, especially last year's X7 Plus — but the changes that have been made make a world of difference, in a good way.
The actual earbud unit itself is quite bit, but that's not necessarily a bad thing. Sprouting out of each unit you'll find a rigid wire, which is designed to fit snugly over your ear to ensure that they stay on your head better. On the right side, a little down the wire, is a basic three-button control unit, which offers volume up, volume down, and a central multi-button. That unit also houses a small door with a microUSB port underneath it, which, you may have guessed, is where you'll charge the headphones.
In general, the build quality of the headphones is quite good. Sure, they're made entirely out of plastic, but the plastic seems nice and strong while still remaining lightweight — which is good for working out.
One of the biggest changes MEE Audio has made to these compared to the X7 Plus is that the X7 now offers color options — which looks excellent. The headphones come with either red or blue highlights, and they're very well placed. That's to say, in general the MEE Audio X7 is still a sleek black, but the color accents help give it a more fun and more sporty look.
In the box, you'll find the headphones themselves, three pairs of ear tips, and a microUSB charging cable. You'll also get a soft carry pouch. It's a bit of a bummer that MEE Audio has done away with the nice hard clamshell-style cases included with the X7 Plus — but not a dealbreaker by any means.
Comfort
The in-ear units themselves are quite large, but that doesn't mean they're uncomfortable. In fact, they're not. Helping that is the fact that the headphones come with a few different ear tip sizes — so you can more easily find the right fit for you.
Actually, we think the size can be a little helpful. The headphones are shaped in a way that means they sit well inside your ear, which we think helps keep them in. That's combined with the cable ties, which help even more. Like any in-ear headphone, you may find them falling out every now and then — though we found that to be a lot less true for the MEE Audio X7 than other in-ear headphones.
Also like any in-ear, you will find that the headphones do get slightly uncomfortable after long periods of listening time — but in general these feel great for an hour or two during your workout.
Sound
MEE Audio has made a few changes to the sound of the X7 Plus for the new MEE Audio X7, and in general those changes are very helpful in delivering a good sound.
Let's start with the bass, which is generally quite deep and powerful. It's really a good amount for working out to — generally you'll some deep bass to punch you into working harder, and these headphones are good that. Of course, they may not be the best for mega-bass fans — but for those looking for more of a natural bass boost, these headphones are great.
The midrange is generally well-tuned, but not totally perfect. The low-mids are nice and present without being too much, however it seems like there's quite a boost in the high mids, which can be a little shrill at times. It's all part of MEE Audio's attempt to boost the high end of the headphones a little, which, for the most part, works quite well — but at times those high mids are a little much, and that does overshadow the rest of the frequencies at times.
Then there's the high end, which has really evolved on MEE Audio's headphones over the past few months, for the better. While we found the high end on the MEE Audio X7 Plus to be a little lacking, that's no longer true here, which is very nice. There is a small patch of frequencies in the lower highs that seem a little subdued, but that's not necessarily a bad thing — and the higher highs keep the music sound nice and crisp without going too far.
Stereo separation on these headphones is decent although nothing to write home about, and the distortion threshold is fine, although again, nothing that will blow your mind. Keen listeners might hear a little distortion at louder volumes, but it never got too much for us — especially for a pair of headphones in this price range and for this purpose. Noise isolation is also pretty good thanks to the closed-back design — although it won't replace a pair of true noise cancelling headphones.
Performance
The MEE Audio X7 earphones use Bluetooth 4.1, which will offer a standard range of 10m, or 33ft. We found that to be true for the most part, and never really experienced too many issues when it came to connectivity.
The battery life on these headphones sits at 7.5 hours of playback time, and while we didn't quite get there it was pretty close — and your playback time will vary depending on your use. 7.5 hours is pretty good for a pair of headphones like this. If you're generally good at charging your devices when you need to, these will be fine for you.
The microphone on these headphones is fine for talking on the phone, which is all you need it for.
Conclusions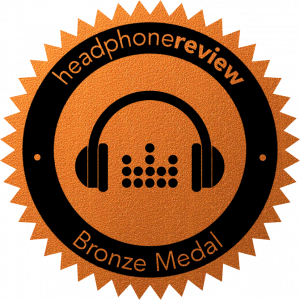 MEE Audio has done well here. The company has improved on an already nice design with some subtle changes that really help give them some character. On top of that, they're generally quite comfortable, and the sound has improved quite a lot. That doesn't mean they're perfect — they're not. But then again, at $60, these are a pretty excellent choice. In fact, in this price range you can't do much better — although the Brainwavz B200 and Brainwavz B100 certainly are close competitors. If you're looking for a great pair of sports-focused headphones, we highly recommend the MEE Audio X7 — and as such, these headphones get the Headphone Review Bronze Medal.
Frequency response
20Hz – 20kHz
Active noise cancellation

No
Driver size
8mm
Noise attenuation
Unknown
Driver type

Dynamic
In-line controls
Yes
Design

Closed
Microphone
Yes
Sensitivity
98dB
Eartip material
Silicone
Rated impedance

16Ω
Magnet material
Unknown
Total harmonic distortion

Unknown
Water resistance
Yes
Rated input power

Unknown
Battery life
7.5 hours listening time
Maximum input power

Unknown
Wireless distance
10m (33ft)
Wireless connection

Bluetooth 4.1
Cable length
N/A
Wired connection

No
Case type
Soft pouch
Detachable cable

N/A
In-the-box

Pouch
Ear tips (x3)
MicroUSB charging cable

Weight
15g (o.5oz)
Colors
Black and blue, black and red