Brainwavz B200 balanced armature wired earphones review
Nice design
Comfortable
Good sound
Sound use more bass
Could use less high-mids
Brainwavz is making quite a name for itself in the in-ear headphones world. Just recently, we reviewed the Brainwavz B100 and Brainwavz BLU-Delta headphones, and while the BLU-Delta needed some work, the B100 impressed us with a 7.8/10 score. The Brainwavz B200 are the next model up from the B100 — so it stands to reason that they should perform equally as well.
The Brainwavz B200 headphones are significantly more expensive than the B100's. While the B100 headphones come at $59.50, the Brainwavz B200's currently sit at $179.50. Are they worth the extra cash? We put them to the test to find out.
Design
The design for the Brainwavz B200 is actually quite nice — a lot nicer than most other Brainwavz headphones we've seen.
The main in-ear unit is a sleek black color, and while they're obviously made from plastic, it never seemed like they'd break easily. That plastic also helps keep them nice and light — so while a metal might have made them feel stronger and more premium, it also would have made them a little heavier.
The headphones are built to wrap around your ear and hang down from the top rather than slotting straight up with the cable falling down. To aid with that, the cable is a much more rigid towards the unit, so that it can be more easily worn. It seems like that section of the cable has been sized pretty well, although people with differently sized ears may feel different.
Speaking of the cable, it may be coated in plastic, but that plastic is textured in a way to prevent the headphones from tangling easily, something it achieves quite well.
In the box, you'll find the headphones themselves, a cable clip, a total of six pairs of gel ear tips, and a pair of Comply memory foam tips. You'll also find the typical Brainwavz clamshell case, which looks great and feels relatively sturdy.
In general, the Brainwavz B200 headphones look great and are generally well built. There's also a nice slew of accessories.
Comfort
The headphones don't just look nice — they're relatively comfortable too. Much more so than your average in-ear headphones, that's for sure. The headphones come with a range of eartips, which is very helpful in finding the right fit. Not only that, but the Comply tips are also helpful in ensuring the headphones stay firmly and safely in your ear.
Like any in-ear style of headphones, you'll experience some discomfort after long periods of time, however these headphones are definitely much more comfortable than others, to Brainwavz's credit.
Sound
So the headphones are well-designed and comfortable — but how do they sound? Turns out, they sound pretty damn good.
Let's start with the bass, which present and well-tuned. Make no mistake, mega-bass fans will find these a little lacking and should look elsewhere, but those looking for a clean, clear, and natural bass sound will like what these headphones have to offer.
The mids are an interesting ride. The low-mids are decently well-tuned and present, but not overly so, and you would struggle to call the Brainwavz B200 headphones warm. On the contrary there's a relatively significant boost on the high-mids, making the vocals and guitars extremely present — and at times it's a little too much. Those high-mids give the headphones a kind of "AM Radio" sound, and there's definitely a hint of that at times here.
The high-end is a little unclear, but generally not too bad. We would have liked to see the high frequencies extended a little higher, but the high-end that is there sounds pretty good. You're not going to get as much detail in the high-end as some other headphones, so don't expect that.
The headphones have a low distortion threshold, and by the time they do distort, you're listening too loudly. It's important to note one thing — these headphones get real loud, real fast. Turn the volume down before you start listening, or else you may damage your hearing. These are also relatively good at blocking out any outside noise, esepcially with the Comply memory foam tips — although if you're really looking for noise cancelling headphones, you should probably keep looking.
Conclusions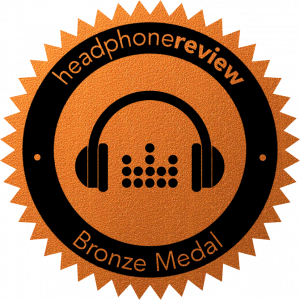 Brainwavz has really hit the nail on the head with the Brainwavz B200 headphones. They look great, are quite comfortable, and sound pretty good. But the question remains — are they worth the money? Well, that depends. If you have almost $200 to spare on a great pair of wrap-around earphones, then these are an excellent option. If, however, you prefer to save the cash for a pair of headphones that offer much more value for money, then the B100's are the right headphones for you.
Still, these are quality — and as such they've won the Headphone Review Bronze Medal. If you want to get them for yourself, check out the links below.
Frequency response
12Hz – 22kHz
Active noise cancellation

No
Driver size
Unknown
Noise attenuation
Unknown
Driver type

Balanced Armature
In-line controls
No
Design

Closed
Microphone
No
Sensitivity
110dB
Eartip material
Gel, memory foam
Rated impedance

30Ω
Magnet material
Unknown
Total harmonic distortion

Unknown
Water resistance
No
Rated input power

Unknown
Battery life
N/A
Maximum input power

Unknown
Wireless distance
N/A
Wireless connection

No
Cable length
1.3m (4.2ft)
Wired connection

3.5mm
Case type
Hard case
Detachable cable

No
In-the-box

Hard case
Gel tips (6 pairs)
Comply tips
Clip

Weight
Unknown
Colors
Black