HyperX Cloud Earbuds in-ear wired headphones review
Very comfortable
Nice design
HyperX may be gaming-focused, but the company has been increasingly turning its attention towards the consumer space. We recently reviewed the new HyperX Cloud Mix headphones, which we found to be an excellent option for gamers that want an all-in-one headset. Now, it's time to take a look at another pair of more consumer-facing headphones from the company — the HyperX Cloud Earbuds.
HyperX argues that these headphones are still built for gamers — it's just that they're built for gamers on the go, who might want to game on their smartphone or Nintendo Switch. Are the $50 HyperX Cloud Earbuds worth buying? We put them to the test to find out.
Design
The first thing to notice about the HyperX Cloud Earbuds are their design, and they're not bad-looking at all. In a world of true wireless and Bluetooth headphones, these are a wired set — but for hard-core gamers the wired form-factor may have its advantages, like a lack of latency and more reliability. The headphones come in red, and that's the only color choice — so if you're looking for something a little more subtle, you may have to opt for another option.
The earbuds themselves are a little differently-shaped than what you'll find on other in-ear headphones. They're built to stay in your ears — which is always helpful.
Part-way down the left side of the flattened cable, you'll find a small single-button control module. We would have liked for HyperX to use a more modern three-button setup — after all, while it might be easy to control volume while you're gaming, the fact is that people will use them for listening to music and other things too.
In the box, apart from the headphones themselves, you'll find a nice case, along with a total of three pairs of ear tips, including the ones that come pre-installed on the headphones.
Comfort
As mentioned, the earbuds on the HyperX Cloud Earbuds are slightly different in shape than what you might expect on another pair of earbuds. In the end, however, they're really quit comfortable. They sit gently in your ear and we found that even with relatively quick movement, they never fell out.
We were able to wear the HyperX Cloud Earbuds for hours on end without them getting uncomfortable, which isn't necessarily something that's common for earbuds.
Sound
Ultimately, the most important thing to consider about these headphones is how they sound, and despite the relatively low price-tag, they actually sound pretty good — which a few quirks.
Let's start with the bass, which is generally solid, though it doesn't extend quite as deep as some might like. For things like explosions and gunshots in gaming, it's able to deliver a relatively full-bodied sound, and in music we found that kick drums were able to shine through relatively well.
The mid range definitely has some tuning to it. The low mids are relatively warm, but we found that they seemed to be overshadowed by a high mid boost. That's helpful when you're trying to listen to the voices of your teammates, but a little much when you're listening to music.
The high end again, is a little overshadowed by the high mids. There's definitely some clarity and detail to go around, which is nice, but we could have used a bit more extension and a little more detail too.
Part of the shtick for these headphones is that they let in outside noise. We found that they did block some noise, but if you're looking for a pair of headphones to cut out all the outside noise, then these aren't the way to go.
Conclusions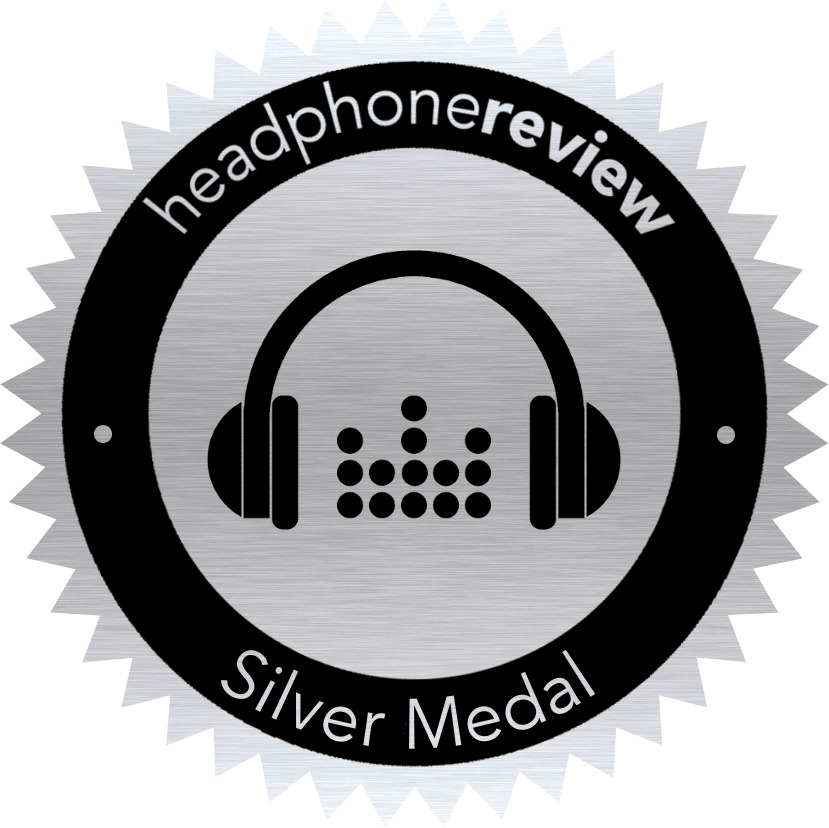 The HyperX Cloud Earbuds are a great way to go for those that want a pair of earbuds to use on the road. They're decently designed and sound fine, plus they're really comfortable and come at a great price.
But are they the best option in the $50 price range? In short, yes. Sure, the sound quality leaves a little to be desired, but at this price you can't really do much better. Ultimately, of course, these are just in-ear wired headphones — so you can't do much more with these than you can with any other pair of in-ears. It's clear, however, that HyperX has given a lot of attention to detail to the headphones, plus they come with a solid range of accessories.
Because of their high quality, we've awarded the HyperX Cloud Earbuds the Headphone Review Silver Medal.
| Store | Price |
| --- | --- |
| | $49.99 |
| HyperX | $49.99 |
Frequency response
20Hz – 20kHz
Active noise cancellation

No
Driver size
14mm
Noise attenuation
Unknown
Driver type

Dynamic
In-line controls
Yes
Design

Closed
Microphone
Yes
Sensitivity
116dB
Eartip material
Silicone
Rated impedance

65Ω
Magnet material
Neodymium
Total harmonic distortion

<2%
Water resistance
No
Rated input power

Unknown
Battery life
N/A
Maximum input power

Unknown
Wireless distance
N/A
Wireless connection

No
Cable length
4ft (1.2m)
Wired connection

Yes
Case type
Clamshell
Detachable cable

No
In-the-box

Headphones
Clamshell case
Ear tips (x3 pairs)

Weight
19g (0.67oz)
Colors
Red