B&O Beoplay E4 in-ear wired noise cancelling headphones review
Slick design
Great sound
Generally comfortable
Slight over-boost in high-mids
Bang & Olufsen is a force to be reckoned with in the headphone world — largely thanks to its well-designed, great-sounding, consumer-friendly headphones. Now, the company is back with another pair in the lineup — the B&O Beoplay E4 headphones.
The headphones come off the back of a number of great releases — such as the B&O Beoplay H6 headphones, which scored almost 9/10 in our review.
The headphones themselves seem to have a lot on offer. While the headphones look nice, they also have noise-cancellation, which is a very nice addition. But are they worth the $250 price tag? We put them to the test to find out.
Design
B&O has become known for its excellent design, and the B&O Beoplay E4 headphones feature B&O's well-known and increasingly loved aesthetic. The headphones currently only come in one color — a sleek and stylish black, which looks quite nice.
The in-ear units on the headphones are a little large, which may come into play a little later in the comfort section, but from a purely aesthetic perspective the large-ish in-ear looks fine. On the end of each in-ear unit you'll find the B&O logo, which is subtle and well-placed.
Part way down the left-hand cable, you'll find a small control remote, which is in a standard three-button format, and has two vol
Towards the bottom of the cable, you'll find a small noise-cancellation module, which houses a battery, a switch to turn the noise cancellation on and off, and a microUSB port for charging said battery. The module looks fine, but from a portability perspective it's a little annoying — and an extra thing that needs to sit in your pocket when you're on the go. Still, thankfully it's somewhat small, and is a necessary inclusion for a pair of noise cancelling in-ear headphones.
In the box, you'll find the headphones themselves, along with three extra pairs of gel eartips, making the total number of pairs four, including those pre-installed on the headphones. You'll also find a microUSB charging cable, a plane adapter, and a pair of Comply memory foam tips — which is a very nice addition.
In general, the B&O Beoplay E4 headphones look relatively good, and the included accessories are a nice addition. While the noise cancellation module is a little annoying, it is necessary — so we can't fault B&O too much for including it.
Comfort
As mentioned, the in-ear units are somewhat large compared to other in-ear headphones, but as it turns out that doesn't translate into an uncomfortable pair of headphones. In fact, in general the headphones are a little more more comfortable than most other in-ear headphones. That's largely due to the fact that they're shaped in a way as to allow them to sit safely in the grooves of your ear, ensuring they don't easily fall out and feel heavy.
Comfort is also further improved by the fact that the headphones come with Comply tips, which always help make a pair of headphones both more comfortable and ensure that they stay in the ear more easily.
If we had to complain, we would say that the headphones still are a little heavy — largely thanks to the cable and control remote. They're not overly heavy though, and it's definitely not a deal-breaker.
Sound
Design and comfort are important enough, but the sound of the headphones is arguably the most important thing to consider. This is an area that B&O has excelled in over the past few years, and we expected nothing less with the B&O Beoplay E4 headphones. Thankfully, the headphones sound excellent.
For starters, the tone of the bass is nice and heavy, without being overbearing — which can be a real issue in headphones today. Kick drums punch through the mix, while bass guitars and synth basses offer a smooth yet powerful tone to them.
The midrange on the headphones is pretty good too. The low-mids offer a good amount of warmth without ending up muddy, which is nice to see. The high-mids are generally well-tuned, but there are a few problem frequencies that can get a little irritating at loud volumes — it's not a deal-breaker by any means, but we would have liked to see those tamed back a little.
The high frequencies are nice and crisp, bringing vocals and guitars out in the mix nicely. High frequencies are often a problem area for headphone-makers, but that doesn't seem to be the case when it comes to the B&O Beoplay E4 headphones.
Of course, there's another thing to consider here, and that's the noise cancellation on these headphones. First up, the noise cancellation on the headphones generally does well at not overly changing the sound of the music you're listening to, which is very helpful. It's also pretty solid in terms of how much noise is cancelled. Sure, it's not as powerful as the likes of the Bose QuietComfort 35, but for a pair of in-ear noise cancelling headphones it does quite well, and will serve as a nice addition for those looking to make their listening experience a little more audible without cutting out all the sounds of their surroundings.
Conclusions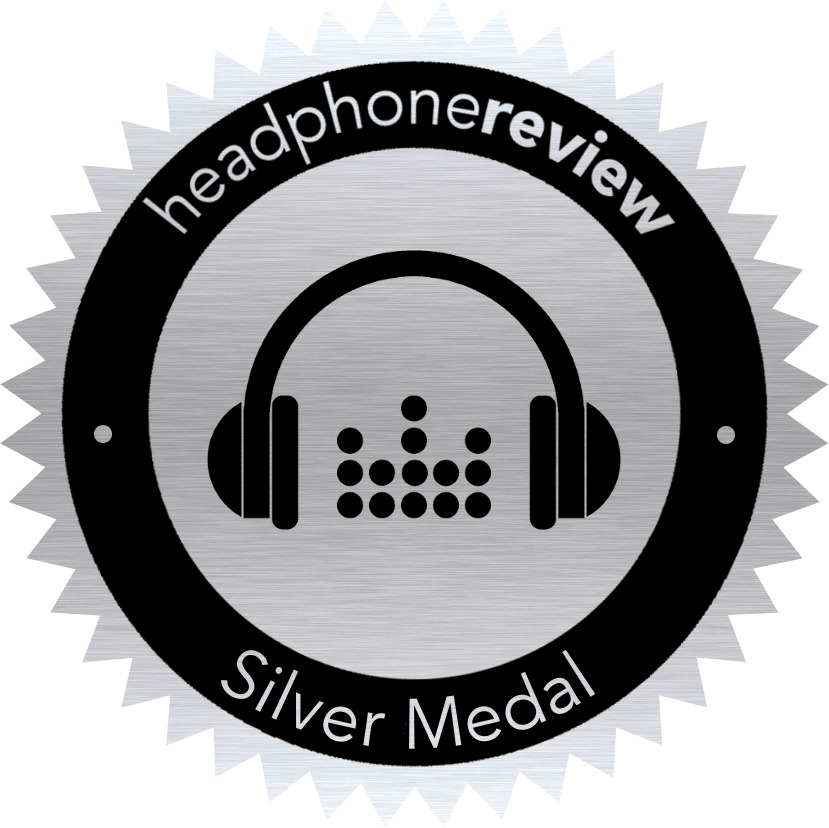 The B&O Beoplay E4 headphones are really a great product. Not only do they look pretty good, but they're generally comfortable and sound great too. They're not for purists, to be sure — the scooped sound wouldn't necessarily be described as accurate, no matter how you look at it. But for those looking for a good listening experience, a portable form-factor, and noise cancellation, these are a great option.
In fact, thanks to their high-quality build and excellent sound-quality, we've awarded the B&O Beoplay E4 headphones the Headphone Review Silver Medal.
| Store | Price |
| --- | --- |
| | $249 |
| B&O | $249 |
Frequency response
20Hz – 16kHz
Active noise cancellation

No
Driver size
10.8mm
Noise attenuation
Unknown
Driver type

Dynamic
In-line controls
Yes
Design

Closed
Microphone
Yes
Sensitivity
Unknown
Eartip material
Gel/memory foam
Rated impedance

Unknown
Magnet material
Unknown
Total harmonic distortion

Unknown
Water resistance
No
Rated input power

Unknown
Battery life
20 hours
Maximum input power

Unknown
Wireless distance
N/A
Wireless connection

No
Cable length
1.2m (4ft)
Wired connection

3.5mm
Case type
Pouch
Detachable cable

No
In-the-box

Headphones
Pouch
Gel ear tips (x4)
Memory foam ear tips
MicroUSB cable
Flight adapter

Weight
50g (0.04oz)
Colors
 Black