B&O Beoplay H6 over-ear wired headphones review
Excellent sound
Great design
Very comfortable
Danish headphone and speaker-maker B&O has seriously stepped up in the past few years, and the result is a luxuriously beautiful and great-sounding lineup of products. We looked at the B&O Beoplay H9 and Beoplay H4 headphones earlier in the year, and both scored extremely well in our review. Now, we're looking at another pair of headphones in the lineup — the B&O Beoplay H6 headphones.
The Beoplay H6 headphones are over-ear headphones, but unlike the other headphones we've looked at, they're wired — so they're a little cheaper than the Beoplay H9's, but have the same $299 price tag as the H4's. Are they worth the money? Turns out, they're worth every single penny.
Design
As with anything, the first thing you'll notice about the B&O Beoplay H6 headphones is their design, and they look beautiful. B&O is a luxury brand, and that shows in the design of all of its headphones, including the H6's. They're clean and classy, and should appeal to anyone that appreciates great design.
The earcups themselves are shaped in a perfect circle, with a B&O logo on each one. The metal plate on each earcup is sleek and shiny, and it looks great on the backdrop of leather that is the earpad. Those earcups can also swivel 90-degrees, so the headphones can lie flat and fit into tighter spaces.
Each earcup features a 3.5mm input, but you don't have to connect both sides to listen. Instead, you can connect one earcup, then daisy-chain to another pair of headphones so your friend can listen too. It's a great way to subtly incorporate interesting new features.
The headphones come in a few different colors — Black Leather, Natural Leather, and Champagne Grey, and all of those colors look beautiful. We're reviewing the Natural Leather version, which, true to its name, has a much more natural air to it than the other colors.
Not only do the B&O Beoplay H6 headphones look great, but they're also extremely well-built, and they feature only premium materials. There's plenty of metal in the frame of these cans, and that's coupled with a ton of leather on the earcups. The headband features a much harder, but still extremely high quality leather. Really we can't fault these headphones when it comes to build-quality, and while you'll still want to take care of them because of how expensive they are, they should be able to withstand plenty of drops and knocks.
In the box you'll find the headphones themselves and a cable, but that's all. It might have been nice to include a carry case or pouch too, but that's definitely not a deal-breaker.
In general, the B&O Beoplay H6 headphones look beautiful and are built extremely well. B&O has a history of excellent design, and these headphones don't disappoint.
Comfort
The B&O Beoplay H6's aren't just well-designed, they're extremely comfortable too. Underneath the leather on each earcup, you'll find plenty of memory foam to help make the headphones comfortable.
With all that metal, you might assume that the Beoplay H6 headphones are heavy, but they're not at all. Instead, they're very light, to the point that while there isn't all that much padding in the headband, there really doesn't need to be — the headphones are light as a feather. On top of that, they don't clamp too hard.
Really, the B&O Beoplay H6 headphones can be worn for hours on end without any discomfort. The leather does get slightly warm at times, but not overly so, and it's not a deal-breaker by any means.
Sound
The best thing about these headphones has nothing to do with look or feel — it's how great they sound. They're clear, concise, deep, and powerful.
Let's start with the bass, which is boosted beautifully. It's nice and thick, however B&O has managed to avoid the trap of making them sound muddy. Despite the heavy bass, they also manage to sound quite natural. Don't confuse natural with accurate though — they're not audiophile-level accurate. They boost the bass by a measurable amount, but yet it sounds like that boosted bass is supposed to be there. Katy Perry's California Girls sounds nice and powerful, while there's a good thick bass sound to Mozart's Symphony No. 40.
The mid-range is equally well-tuned. There's plenty of presence in the high-mids without sounding like an AM radio, and there's nice warmth to the low-end too. The mid-range is a little scooped compared to the bass, but here that's a good thing. It helps emphasize the bass a little while still ensuring that the body of the audio sounds good.
The high-end is the most overlooked frequency range on a pair of headphones, but B&O has managed to easily avoid that problem. Cymbals have a great shine to them, while vocals sound nice and crisp and guitars have an excellent bite to them.
There's not much to fault B&O here. The headphones simply sound excellent. Sure, they're not overly accurate — but if you're a casual listener chances are accuracy doesn't matter to you, nor should it. Perhaps the only downside is that the headphones aren't extremely isolating. They do block out some outside noise, but those looking to really cut out the noise may want to keep looking for a pair of actual noise cancelling headphones.
The headphones have great stereo separation, and they don't distort easily at all. We even put them through a headphone amp to give them a bit of extra juice, and by the time we heard any distortion we were at dangerously loud levels anyway.
Conclusions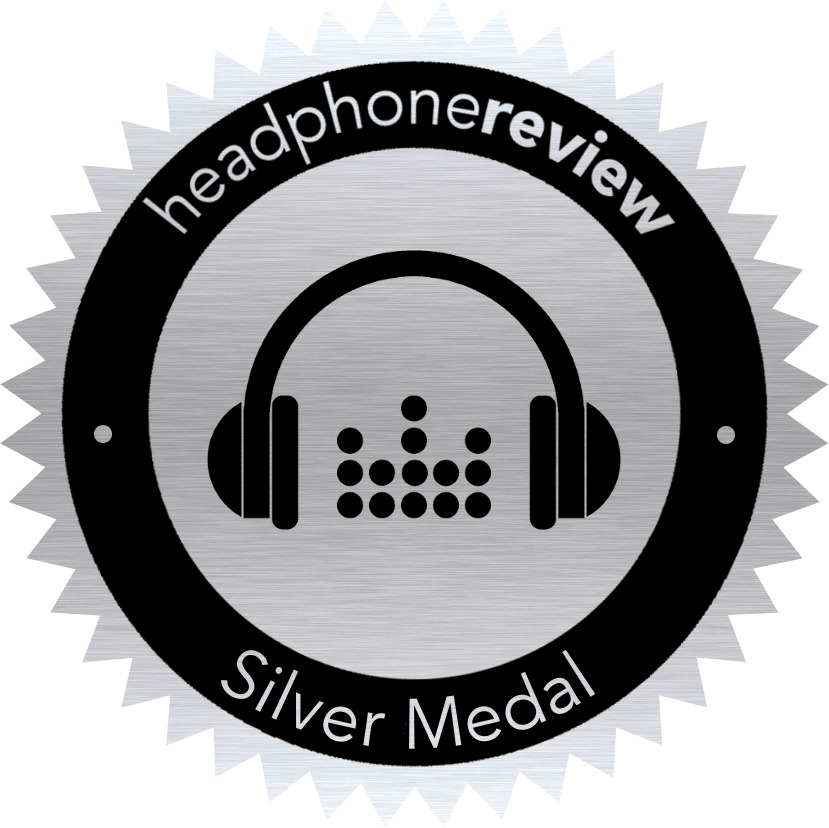 B&O has hit a real home run here. The Beoplay H6 headphones are beautifully designed, very comfortable, and sound amazing. They're not cheap, coming in at $299, but we would argue that they're well worth the money, and the headphones sound on-par with plenty of cans that cost much more money.
There are still competitors though. The Shure SRH840's, for example, scored similarly in most areas, but they're slightly more audiophile focused and may not feature the bass boost some are looking for. The Blue Lola headphones cost $50 less than these, but they didn't score quite as well and are a little bulkier too.
Because of their excellent design and top sound quality, the B&O Beoplay H6 headphones have been awarded the Headphone Review Silver Medal.
| Store | Price |
| --- | --- |
| | $299 |
| B&O | $299 |
| | | | |
| --- | --- | --- | --- |
| Frequency response | 20Hz – 20kHz | Active noise cancellation | No |
| Driver size | 40mm | Noise attenuation | Unknown |
| Driver type | Dynamic | In-line controls | Yes |
| Design | Closed | Microphone | Yes |
| Sensitivity | Unknown | Earpad material | Memory foam |
| Rated impedance | Unknown | Magnet material | Unknown |
| Total harmonic distortion | Unknown | Water resistance | No |
| Rated input power | Unknown | Battery life | N/A |
| Maximum input power | Unknown | Wireless distance | N/A |
| Wireless connection | No | Cable length | 1.2m (3.9ft) |
| Wired connection | 3.5mm | Case type | N/A |
| Detachable cable | Yes | In-the-box | |
| Weight | 230g (8.1oz) | Colors | Black Leather, Natural Leather, Champagne Grey |