EPOS Adapt 460T neckband headphones review
Solid audio quality
Comfortable
2020 has been all abut reimagining productivity. Okay, sure, it's been all about other things — but in the process of those other things happening, we've had to reimagine productivity. Sennheiser's EPOS brand wants to help take care of the audio component of productivity, through the EPOS Adapt line — which include the new EPOS Adapt 460T neckband headset.
But just how good is the headset at offering a productive experience? And is the beck and form-factor conducive to productivity at all? We put the headset to the test to find out.
Design
As mentioned, the EPOS Adapt 460T headset is a neckband style, and that style isn't for everyone. But as far as neckband headsets go, it's a pretty stylish one, thanks to its black-and-silver color-scheme and solid build.
It is largely made from plastic, but it doesn't feel cheap, and as long as you take care of it, it should be able to handle most of the day-to-day abuse you can throw at it.
On the left arm of the headband, you'll get a call control button and a microphone mute button, while on the right is where you'll find the rest of your playback controls. It's a solid selection of controls, and pretty much everything you'll need — though you will have to remember which button is for the microphone and which is for the call, so you don't accidentally hang up on someone. There's also a power button and a MicroUSB port. It's frustrating that Sennheiser has gone for a MicroUSB port and not a USB-C port here — it's 2020, and no one should be launching headsets with MicroUSB any more, especially when they cost over $300.
The headset also comes with a wireless dongle for better connectivity, and it's small and compact with an LED light on the top to indicate status, and a button on the end for connecting. It works well, and is easy to use.
In the box, you'll get a solid selection of accessories. There's the headset itself, along with a total of four pairs of ear tips, and a MicroUSB charging cable. There's also a great hard case that should keep the headset safe and sound.
Comfort
Generally speaking, the EPOS Adapt 460T headset offers a comfortable experience — but it's not perfect. It is, however, lightweight, with relatively small ear buds that you won't mind having in your ears for hours at a time.
The main comfort-related downside has to do with the fact that the wires on the headset are a little short, and as a result, if it's crooked to one side or the other, it tugs on the bud a little. Considering how easy it can be for the headset to slant to one side, that's an issue you might run into a lot. We would have liked slightly longer wires between the neckband and the ear buds.
Sound
Considering this headset is built more for productivity than listening to music, you may use it more for your meetings. That said, it should still sound good — and as you would expect from Sennheiser, it doesn't sound bad at all.
For starters, there's a solid, tight bass response. Kick drums easily make their way through a mix, and while there's certainly somewhat of a bass boost, it's not over the top. The extension is solid too, which is always nice.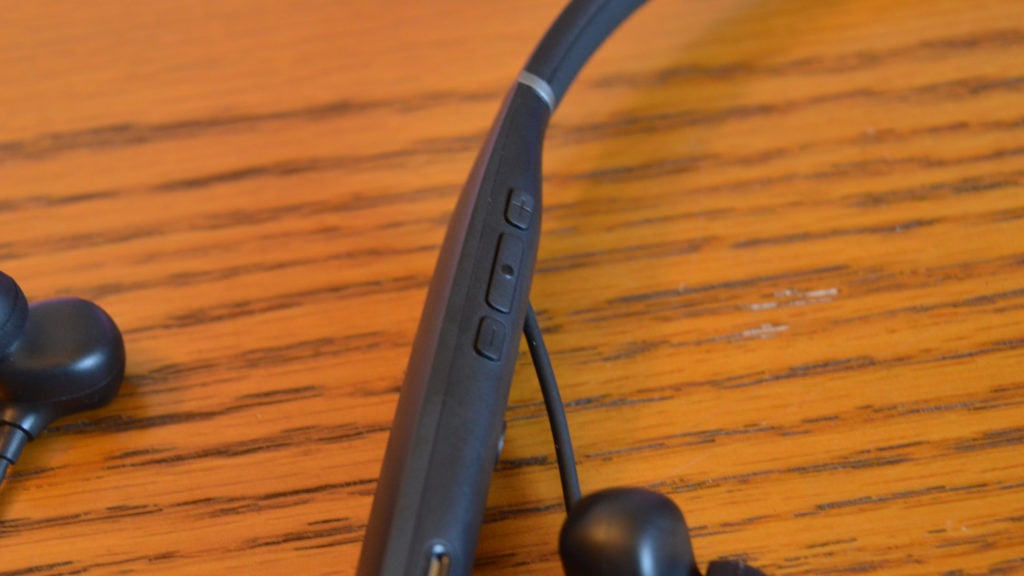 The mid range is well-tuned, and as we have come to expect from consumer-facing headphones, there's a slight high-mid dip. This sounds good in day-to-day use, and while those who want a completely natural sound won't appreciate it, pretty much everyone else will.
The highs are a little tucked away on this headset, which is something we would have liked to be different. The overall sound is relatively clear, but it's not quite as detailed as we would have liked. It's not bad by any means — it's just that for $330, a bit more clarity would have been nice.
The headset also has noice-cancellation built into it, and it could be described as "fine." If you only expect it to take the edge off a little, then you'll be happy with it, but if you want serious noise cancellation, it's worth looking elsewhere.
Performance
The headset connects to your listening device through Bluetooth 5.0, and we found that with the included dongle, it retained a good connection throughout testing. That said, we did experience some Bluetooth interference at times, though that was only an issue when nothing was playing.
It also has a battery life of 14 hours, which is fine, but not incredible. If you plan on using the headset during the work day, you'll probably need to charge it overnight — though everyone else should get a few days of use in between charges at least.
Conclusions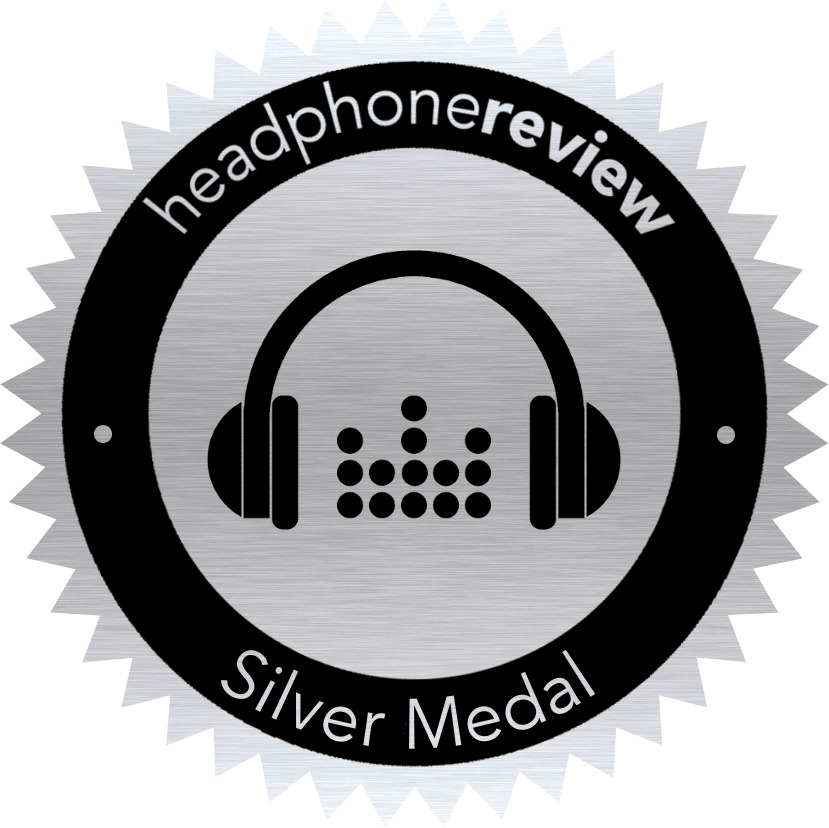 The EPOS Adapt 460T is a solid headset. It has a classy design, a relatively comfortable fit, and it sounds good too. But it's not cheap. At $330, it'll need to be exactly what you're looking for to be worth buying — and that means being content with the lackluster noise cancellation and the battery life.
That said, if neckband headphones are your style, there isn't a ton of competition — and given you can pick the headset up for only a little over $200 on Amazon, it may definitely be worth buying.
Because of its excellent sound quality and classy design, we're awarding the EPOS Adapt 460T the Headphone Review Silver Medal.
Frequency response
Unknown
Active noise cancellation
Yes
Driver size
Unknown
Noise attenuation
Unknown
Driver type
Dynamic
On-ear controls
Yes
Design
Closed
Microphone
Yes
Sensitivity
Unknown
Ear tip material
Silicone
Rated impedance
Unknown
Magnet material
Unknown
Total harmonic distortion
Unknown
Water resistance
No
Rated input power
Unknown
Battery life
14 Hours
Maximum input power
Unknown
Wireless distance
10m (33ft)
Wireless connection
Bluetooth 5.0
Cable length
N/A
Wired connection
No
Case type
Hard case
Detachable cable
N/A
In-the-box

Headset
Ear tips (x4 pairs)
MicroUSB cable
Hard case

Weight
Unknown
Colors
Black